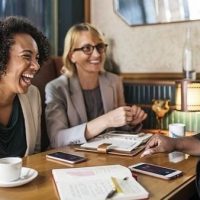 Larry A. Hobbs, B.S, M.B.A., SPHR & SCP
Personnel policy manuals, also known as employee handbooks, communicate
information about company goals, employment guidelines, pay policies, benefits,
employee responsibilities, work rules, behavior and discipline, safe practices, and
other types of information. Handbooks contribute to productivity, employee
loyalty, and higher morale; while reducing conflicts, misunderstanding, and
mistrust. When an employer improves relations with its employees — it also
improves relations with its customers. 
A carefully organized and clearly written handbook is essential since employees
are expected to read, understand, and follow it. A non-professional or poorly
worded manual can cause problems. For instance, it may contain implied
promises of employment security, guarantees of due process, disciplinary
conditions that leave no room for flexibility, or information that is no longer
accurate. Many handbooks in use today are a collection of memos and bulletin
board notices from several sources, using different writing styles, and containing
conflicting information; either collected over a period of the last five or ten years,
or hurriedly put together recently so that some "policy" would be in place.
A useful handbook must be well organized, thorough, accurate, up-to-date, easy
to read, widely distributed, and fully accepted by every member of the group.
Employees and supervisors need a fair and consistent source of information for
handling questions and solving problems. One suggestion is for the handbook to
contain an Alphabetical Index, rather than a Table of Contents because with a
Table of Contents the reader must read the entire list in order to find one topic.
Another good reason for having an employee handbook is because insurance
companies and government agencies, such as the Department of Labor, the
Equal Employment Opportunity Commission, the Texas Commission on Human
Rights, or the Texas Workforce Commission, frequently ask for a copy during
inspections, investigations, or claims for unemployment compensation. When the
employee handbook addresses the issue in question, the answer is usually
apparent, and the case is closed more quickly.
There are so many new, controversial, and highly emotional topics in today's
workplace that it is essential to address these issues before a situation arises.
Such topics include smoking, concealed handguns, injuries, disabilities, time off,
HIV and AIDS, COBRA, FMLA, ADA, overtime pay, drug and alcohol testing,
discrimination, sexual harassment, office romance, discipline, confidentiality,
waivers, mandatory arbitration, religious symbols, payroll deductions,
background checks, cell phone and Internet use, wrongful termination lawsuits,
and paid breaks. Management really should review subjects such as these, come
to a consensus, put it in writing, and let the employees know. It goes in the
Employee Handbook!
Larry Hobbs is a Personnel Management Specialist who assists employers in HR
matters. Telephone consultation is always free — (210) 316-4206.